Karina May Reyes-Antonio is a community organiser, conservationist, lobbyist and the Co-Founder of Centre for Sustainability, Philippines, a non-profit, female-led environmental organisation working on sustainable community development in Palawan, Philippines. She is also a National Geographic Explorer and was recently featured in CNN Philippines as young Filipino leaders making a difference in their communities.
She talks to YFOP about her love for the Palawan Island and the local communities, challenges faced as a female conservationist and solutions for climate change and environment and wildlife conservation.

How did your love for wildlife and nature start and what motivates you to work for it?
I started out as a community organiser in South America, doing empowerment projects in education and non-violence with impoverished urban communities affected by narco-trafficking. While studying environmental security I realised how disconnected myself and the communities were to our immediate environment despite how vulnerable our location was to environmental disasters, especially landslides! My angle for empowering communities drastically changed, and I pursued development projects encouraging communities to protect the immediate nature and wildlife that surrounds us to overcome impoverishment. Witnessing first-hand the empowerment of the communities I work with as a direct result of the projects we work on together is my ultimate motivation.

How was the Centre for Sustainability, Philippines formed? Can you tell us more about the organisation?
The Philippines is 1 of only 17 megadiverse countries in the world, hosting 80% of the planet's biodiversity! It used to be 95% covered in rainforest, but now only 3% of this rainforest remains! As young Palawenyos, we grew up swimming in the sea with turtles and exploring the wild forests of our island, but a lot has changed between childhood and adulthood. We see that today Palawan's natural beauty is under real threat from unsustainable exploitation of natural resources and unsustainable development programs, and our seas and forests are no longer like they were. So we created the Centre for Sustainability PH, Inc. (CS) to better organise our passionate efforts in creating a sustainable future for Palawan, and to have a stronger voice to influence decision-makers and shape development on our island!
The Centre for Sustainability PH is a women-led, youth environmental non-profit based on Palawan island, known as the Last Ecological Frontier of the Philippines. We work to CONSERVE LAND and protect Palawan's last remaining rainforests through the establishment of national parks, through community organising, scientific research, and political lobbying.
Our biggest win so far has been the legal establishment of Cleopatra's Needle Critical Habitat now the Philippines' biggest Critical Habitat, representing 41,350 ha. of virgin forest, or HALF the size of Hong Kong! Cleopatra's Needle is the highest peak and largest drainage basin of Palawan's capital city, the ancestral lands of the last 200 members of the disappearing Batak tribe, and home to countless endemic flora and fauna, including the world's #1 poached animal, the Philippine Pangolin.
But this is just the tip of the iceberg. The United Nations says that 30% of the Earth needs protection by 2030 (a mere 10 years!) if we're to ensure clean drinking water and a stable global climate for all. Our mission is to complete protection of Palawan's forests—with only 300,000 ha. remaining (or 7 times Cleopatra's Needle), it really is a concrete and attainable goal!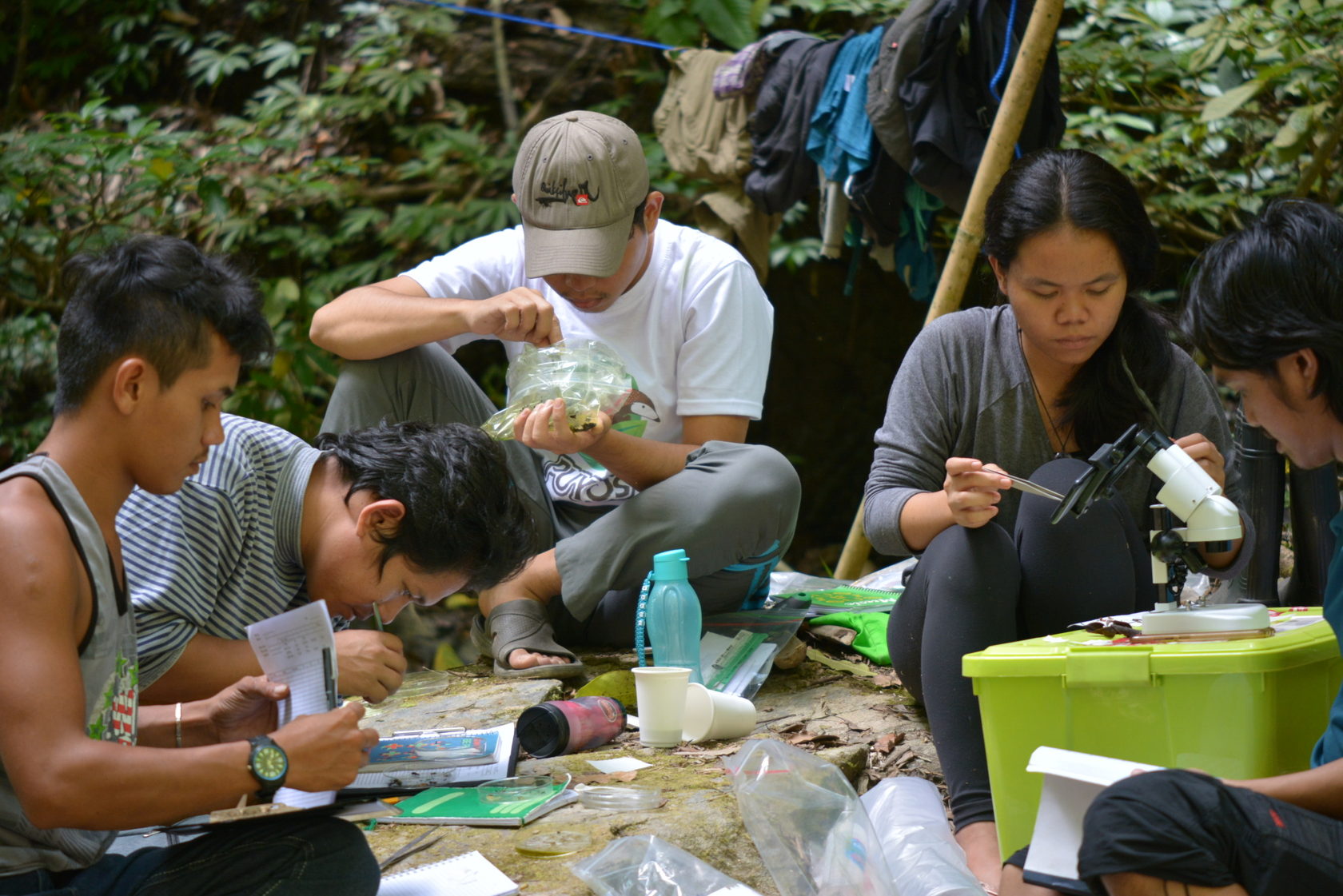 How can one be a part of the organisation?
Near and far, anyone can be a part of CS by:
• Following us on social media and liking our posts. Politicians really pay attention to us when they see that the local and international public supports our work! FB @centreforsustainability, IG @centreforsustainabilityPH, Twitter @cspalawan_ph
• Telling family, friends, and colleagues about our work, and encouraging them to follow us on social media too!
• Volunteering in person or online.
• Becoming an intern by joining our International Student Program. • Hosting fundraisers for us.
• Donating money or in kind.

What are some challenges that you and other members face being part of a women-led nonprofit organization?
We are two young women, Jessa Garibay and myself, that are the principal lobbyists and CoDirectors of CS. From day one of the project, we have worked in a male-dominated environment in a country where patriarchy reigns supreme—from fieldwork to board rooms. Our abilities have been questioned every step of the way—from our physical strength in hiking to reach our remote indigenous communities or withstand treacherous and gruelling expedition conditions deep in the jungle, to our capabilities in successfully lobbying and making ourselves heard by older, male decision-makers. On different occasions, I have experienced stakeholders tell me how to dress; request my marital status in the middle of a presentation; advise me that hiking is not an appropriate activity for women; openly make lewd comments to me, and even clearly show disinterest in relating to me as a leader because I am a woman.

What has been your proudest moment while working for CS?
The most obviously proud moment for CS was the legal declaration of Cleopatra's Needle Critical Habitat. However, on a more personal level, my proudest moments are those involving our communities. For example, Mother Erlinda Delos Angeles, sole female tribal councillor of her indigenous Batak community and mother of 3, stood up to her powerful male co-councillors in a very important community meeting. She looked small and weak, but her words were BIG and STRONG. "The talking has to stop!" she said. "It's time to act, and it's time to act NOW." So we all listened to her, and we have not looked back since!

(Image credit: Duncan Murrell)

What are some measures that we can take to stay in harmony with nature and wildlife?
1. Refuse, Reduce, Reuse everything! Note, I haven't included "Recycle" because very little of what we send to recycling ever actually gets recycled. Our world does not operate on a circular economy, so recycling is largely a MYTH in most places. Remember, many of us have much more than we really need, so work on consuming less everything!
2. Avoid single-use disposal plastic—always be ready with your own straw, cutlery, food and beverage containers, and carry bags.
3. When you can, choose public transport. When you can, choose a bus or a train to travel, not a plane.
4. Volunteer at your local nature/wildlife organisation.
5. Donate to your local nature/wildlife organisation if you believe in their work.
6. Get outdoors to discover nature and wildlife—the more you learn to appreciate, the more passionate you will be to protect it!

Do you believe that youth have the power to change the environmental scenario on Earth?
I KNOW that our youth have ALL THE POWER to change our environmental scenario on Earth. Because we are already the leaders of TODAY and we are the leaders of the FUTURE. We do not have a choice, we are inheriting this planet for better or for worse, so why not make for better?

What according to you is the role of the governments in wildlife and environmental conservation? Are you satisfied with the efforts of your government? If not, do you have a message for them?
Sustainable wildlife and environmental practices occur on the ground when governments at the top implement policies and most importantly allocate sufficient budgets to facilitate and incentivise conservation at the community level. We have to act fast because as an island nation we will be one of the most vulnerable and worst hit by the climate crisis our planet currently faces. I want to see our government, from the local to the national level, collaborate with and listen more closely to community groups on environmental issues. This ensures that government time and resources are more efficiently employed so that communities and the least-advantaged sectors of society can reap the benefits of pro-environment actions coming from the government.

Lastly, what is your message for budding environment and wildlife conservationists all over the world?
You could not have chosen a more exciting time to be a conservationist—CONGRATULATIONS! While the climate crisis we face is daunting, we are also very privileged to be environmental leaders who will be making (her)story as the frontliners creating solutions! So don't ever give up, don't ever be scared to make yourself heard, the world is waiting for you and listening to you!